Al Madrigal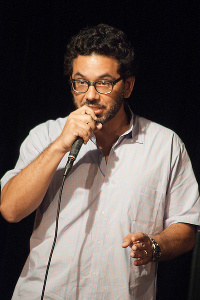 Quotes
Well, once I fried tofu and put Sriracha on it. After that I was so depressed I swore off preparing food for myself altogether.
If my wife has too much to drink at a party, starts yapping a little too much, I don't have to say anything... three little leg squeezes, she knows that means 'Put a sock in it, drunkie, time for you to wrap it up.' Somebody didn't have dinner like I suggested, now you're spouting off at the mouth divulging all the family secrets. You need to pipe down or we've got to fucking leave.
What's happening is there's a warm front of Mexicans that are humping their way north to the point where you'll be up in Canada one of these years, walking around, you'll be like: 'Hey look, Eskimos! They came down.' Those aren't Eskimos - they're Meximos: Mexicans in parkas, trying to have sex with Canadian women.
I like bourbon, any other detail beyond that is going to make me seem like a drunk.
Then I get there and I swear - it's San Jose, CA - there's 2,000 Mexicans. And you know you're half-Mexican when you walk in and you're like, 'Damn. This is a lot of Mexicans. Only half of me is the only white guy here.'
All quotes and jokes
Popularity over time
Profile was viewed 359 times