Amy Poehler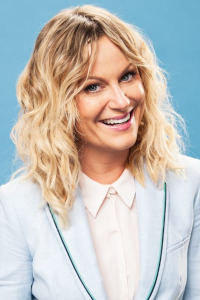 Quotes
Your career and your passion don't always match up. Plenty of talented people don't have the careers they want. Plenty of untalented people make millions and make movies. There is a difference between determination and talent.
Tina Fey is my comedy wife. I have known her for almost a double decade. We met each other when we were poor and single. Now we are both rich as shit and have husbands all over the world. People think of us as a 'comedy team' and I am not quick to correct them. Why wouldn't I want to connect myself to the fiercest and most talented voice in the comedy world?
In my twenties I tried cocaine, which I instantly loved but eventually hated. Cocaine is terrific if you want to hang out with people you don't know very well and play Ping-Pong all night. It's bad for almost everything else.
You do it because the doing of it is the thing. The doing is the thing. The talking and worrying and thinking is not the thing.
I recently hurt myself on a treadmill and it wasn't even on. I was adjusting my speed and stepped wrong and twisted my ankle. I felt a moment of frustration filled with immediate relief. I didn't have to actually work out, but I still got credit for trying. It was a gym snow day.
All quotes and jokes
Popularity over time
Profile was viewed 332 times