Amy Schumer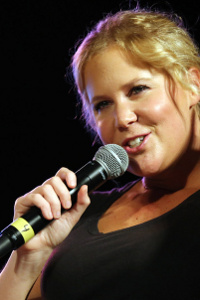 Quotes
There's nothing more awkward than going to the first birthday party of a little girl when you told her mom to get rid of her. Because the kid can tell. "Here's Tickle Me Elmo!" She's like, "Fuck you!" I stand by my decision.
[On Her Best Friend's Pregnancy] I'll never forget how she told us. She took us all out to brunch, and she was like, 'You guys, I'm keeping this one.'
We had to break up, though. We wanted different things - like he wanted kids and I wanted him to hear.
I think you can go from being not very funny to working really hard for 10 years and figuring out how to make a living on the road, but I don't think you can rise much above that.
I just say what I think is the funniest thing I could say. I'm not trying to make headlines. I'm just trying to say the stuff that I think is funny and will make people laugh.
All quotes and jokes
Popularity over time
Profile was viewed 1368 times