Amy Schumer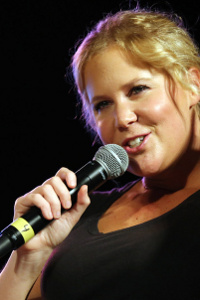 Quotes
I think you can go from being not very funny to working really hard for 10 years and figuring out how to make a living on the road, but I don't think you can rise much above that.
I've always been really dark, and drawn to darker humor. Nothing has been forced, and I don't say anything for shock value.
There's nothing more awkward than going to the first birthday party of a little girl when you told her mom to get rid of her. Because the kid can tell. "Here's Tickle Me Elmo!" She's like, "Fuck you!" I stand by my decision.
[On Her Best Friend's Pregnancy] I'll never forget how she told us. She took us all out to brunch, and she was like, 'You guys, I'm keeping this one.'
The last couple of roles I missed out on went to Jennifer Hudson, Jessica Biel and Olivia Wilde.
All quotes and jokes
Popularity over time
Profile was viewed 395 times