Andy Kaufman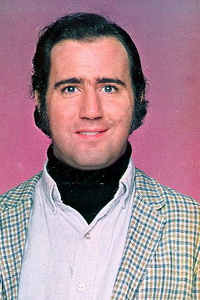 Quotes
We're hoping that this will also be the key to starting community events in a place where the whole community can come together. We've been working with the town on the total renovation.
While all the other kids were out playing ball and stuff, I used to stay in my room and imagine that there was a camera in the wall. And I used to really believe that I was putting on a television show and that it was going out to somewhere in the world.
When you go through a tunnel - you're going on a train - you go through a tunnel, the tunnel is dark, but you're still going forward. Just remember that. But if you're not going to get up on stage for one night because you're discouraged or something, then the train is going to stop. Everytime you get up on stage, if it's a long tunnel, it's going to take a lot of times of going on stage before things get bright again. You keep going on stage, you go forward. Every night you go on stage.
There's no way to describe what I do. It's just me.
Pure entertainment is not an egotistical lady singing boring songs onstage for two hours and people in tuxes clapping whether they like it or not. It's the real performers on the street who can hold people's attention and keep them from walking away.
All quotes and jokes
Popularity over time
Profile was viewed 391 times