Bernie Mac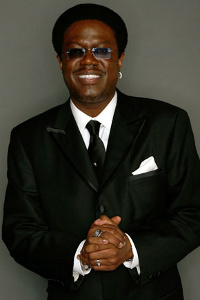 Quotes
You got Dracula - a wooden stake; Wolfman - a silver bullet. But little boys, a belt. But I've been stripped of my weapons. Wait a minute. I don't need a belt.
I wanted to be the best that I could be, first for myself, then for an audience. I love to see a smile on somebody's face... If I can tell someone a story that makes them bend over and laugh, that's bigger than anything else.
I was living in a place where I was harming myself. I was irresponsible. I`d lost several apartments. I couldn`t hold a job. I was tired of being a no-good son of a bitch who called himself a man but was just a grown boy.
I'm an ordinary guy with an extraordinary job.
Every time you see a black romance it's over-the-top. There always has to be extreme hostility between the sexes. He has to cheat. She has to show him how independently strong she is, not just as a woman but as a black woman.
All quotes and jokes
Popularity over time
Profile was viewed 1487 times