Bernie Mac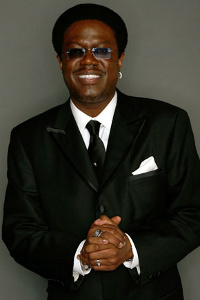 Quotes
I came home at one o' clock in the morning. The two-year-old send the faggot downstairs for some milk and cookies! I'm comin' upstairs, he walkin' downstairs. He gon' walk past me like I'm a visitor, you know... [imitates his nephew's blank stare]. I said, "where you goin?" [as his nephew, in a stereotypically gay voice] "To get some milk an' cooookies!" He said it so funny, I wanted to hear him say it again! I said, "some what?" [as his nephew] "Some milk an' cooooooookies!!'".
Jordan's gonna have a case of "assus beatus redus". That's Latin for I'm gonna beat his ass until it glows.
I was living in a place where I was harming myself. I was irresponsible. I`d lost several apartments. I couldn`t hold a job. I was tired of being a no-good son of a bitch who called himself a man but was just a grown boy.
You got Dracula - a wooden stake; Wolfman - a silver bullet. But little boys, a belt. But I've been stripped of my weapons. Wait a minute. I don't need a belt.
I have Glocks, .45s, Berettas, Remingtons. I like the marksmanship and the discipline that it takes to be a gun owner. I like the machinery. Being able to take it out and clean it is even more fascinating than having the gun.
All quotes and jokes
Popularity over time
Profile was viewed 213 times