Bernie Mac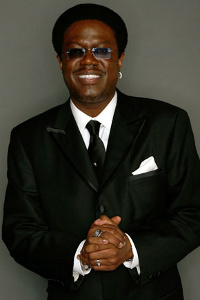 Quotes
I'm an ordinary guy with an extraordinary job.
I was living in a place where I was harming myself. I was irresponsible. I`d lost several apartments. I couldn`t hold a job. I was tired of being a no-good son of a bitch who called himself a man but was just a grown boy.
I wanted to be the best that I could be, first for myself, then for an audience. I love to see a smile on somebody's face... If I can tell someone a story that makes them bend over and laugh, that's bigger than anything else.
I came home at one o' clock in the morning. The two-year-old send the faggot downstairs for some milk and cookies! I'm comin' upstairs, he walkin' downstairs. He gon' walk past me like I'm a visitor, you know... [imitates his nephew's blank stare]. I said, "where you goin?" [as his nephew, in a stereotypically gay voice] "To get some milk an' cooookies!" He said it so funny, I wanted to hear him say it again! I said, "some what?" [as his nephew] "Some milk an' cooooooookies!!'".
Every time you see a black romance it's over-the-top. There always has to be extreme hostility between the sexes. He has to cheat. She has to show him how independently strong she is, not just as a woman but as a black woman.
All quotes and jokes
Popularity over time
Profile was viewed 757 times