Bill Burr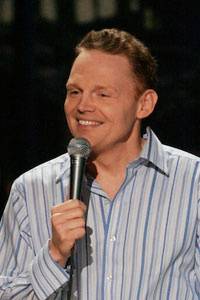 Quotes
I'll tell you why -- because, in the unlikely event that we're both on the Titanic and it starts to sink, for some reason, you get to leave with the kids and I have to stay -- that's why I get the dollar more an hour.
You wanna know how you know you're informed as a protestor? They don't show your interview on TV.
Why would you listen to another human being tell you where you're going to go when you die? "Dude, have you ever been dead?" "No." "So, wouldn't it be safe to assume that you wouldn't have the slightest fucking idea what you're talking about."
Now, if they were just honest about it and were like, 'Look, this guy's going to die in, like, seven or eight minutes; I'm going to get a bag of cash and a Lexus,' I wouldn't have a problem with it.
Oh look an ATM! Ok here we go! I lost all my money, now what do I do? Get a gun! Rob a casino! Good idea! Look at all the lights! This is beautiful.
All quotes and jokes
Popularity over time
Profile was viewed 213 times