Bill Hicks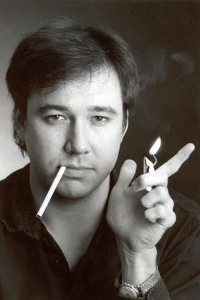 Quotes
I don't like anything in the mainstream and they don't like me.
I have never seen two people on pot get in a fight because it is fucking IMPOSSIBLE. "Hey, buddy!" "Hey, what?" "Ummmmmmm...." End of argument.
My final point about alchohol, about drugs, about Pornography...What business is it of your's what I do, read, buy, see or take into my body as long as I don't harm another human being whilst on this planet? And for those of you having a little moral dilemna on how to answer this, I'll answer for you. NONE OF YOUR FUCKING BUSINESS Take that to the bank, cash it and take it on a vacation outta my fucking life. And stop bringing shotguns to UFO sightings, they might be here to pick me up and take me with 'em.
If you don't think drugs have done good things for us, then take all of your records, tapes and CD's and burn them.
Ever noticed that people who believe in Creationism look really unevolved?
All quotes and jokes
Popularity over time
Profile was viewed 1692 times