Brian Regan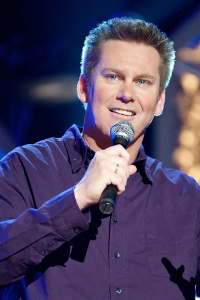 Quotes
I before e except after c and sounding like a in a neighboring way and on weekends and holidays and all throughout May YOU'LL ALWAYS BE WRONG NO MATTER WHAT YOU SAY!!!!
You know I could go for a sandwich, but uh, I'm not gonna open two jars. I can't be opening and closing all kinds of jars. And who knows how many knives!
[on using gym equipment] I always hate having to use the equipment after these huge buff guys who move, like, the entire rack of plates. Then I get on, and move two plates, you know like: CLANK! CLANK! "I'm the two plate guy!" CLANK! CLANK! "Anyone wanna spot me?" CLANK! CLANK!
You got to figure out how to eat your snack while your elbows are touching. You got to learn how to twist your little plastic utensil.
It means a lot to me to have my kids like what I do. And that's why I limit them. But I don't want to put that pressure on them to be a fan of mine.
All quotes and jokes
Popularity over time
Profile was viewed 119 times