Dat Phan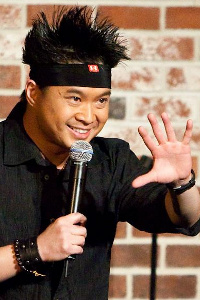 Quotes
I love doing comedy, you guys. I knew comedy was for me when I was the only Asian in high school that failed math. But you know, when I failed, eight other students around me failed, too.
I was living under a desk in West Hollywood. It was a closet that I shared with another comic. I was shocked when they called me to come in to try out for the show. The chances of me getting on a TV show and winning it is like one-in-a-million. I had only been doing comedy for six years at that point, so I was basically considered an open mic-er or maybe a feature act once in awhile.
We want to be seen as more than just martial artists, or bad stereotype token roles in American TV and movies.
I knew comedy was the thing for me when I was the only Asian kid in high school... who failed math.
It's a constant battle between what your heart tells you, and what your brain tells you.
All quotes and jokes
Popularity over time
Profile was viewed 72 times