Greg Giraldo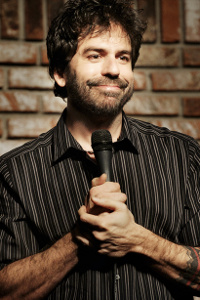 Quotes
[When discussing a Florida woman denied a drivers license for refusing to remove her Burka and head covering] You know, I think they should give her the license, but then, it should only be good for flying carpets.
Yeah, I'll take lettuce... tomato... and- I'm sorry, did you just put your balls in my sandwich?
My house is on fire... marshmallows!
On Joan Rivers: "Could your original face have been that much worse than that clown mask you've had welded on?"
Look at the insane things the Jews believe. The Jews believe that Barbra Streisand is worth $1,000 bucks a ticket.
All quotes and jokes
Popularity over time
Profile was viewed 148 times