John Oliver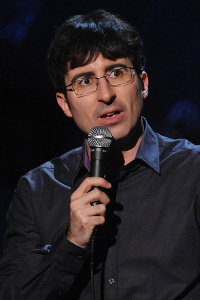 Quotes
Everyone has seen their dad's penis. Yes, you have. Don't do this to me, New York. Yes, you have. Yes, you have. You have seen your dad's penis. Oh, right. Raise your hands if you've seen your dad's penis. You are fucking lying to me! How am I, as a British person, the least repressed human being in this room?!
I think the best analogy for where we are right now is that America is Elvis Presley -- the most beautiful, talented, rebellious nation in the history of Earth. And now, you're in your Vegas years. You've squeezed yourself into a white jumpsuit, you're wheezing your way through 'Love Me Tender' and you might be about to pass away bloated on the toilet. But you're still the King.
I'm like oysters; a few people claim they're a delicacy, but most people find the idea of putting one in their mouth disgusting.
Let me make one thing perfectly clear to you: this is not writing. I have absolutely no idea how this sentence I'm currently saying is going to finish. When and if it does, I can only hope it makes some kind of coherent ceramic pineapple.
Six months ago, in Saudi Arabia, a suicide bomber managed to get close to a Saudi prince. And he did this by hiding a bomb inside him; he managed to get explosives and a detonator inside his anus. And he detonated that bomb, killing nobody -- apart from himself -- a lot. When I first heard that story, my instinctive reaction was, that is definitely the world's greatest missed opportunity for a pull my finger joke.
All quotes and jokes
Popularity over time
Profile was viewed 106 times