Lewis Black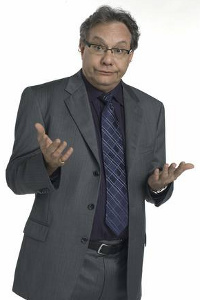 Quotes
Republicans are a party with bad ideas and Democrats are a party with no ideas.
A republican stands up in congress and says 'I GOT A REALLY BAD IDEA!!' and the democrat stands up after him and says 'AND I CAN MAKE IT SHITTIER!!'
There's no such thing as soy milk. It's soy juice. But they couldn't sell soy juice, so they called it soy milk. Because anytime you say soy juice, you actually... start to gag. And they put Soy Milk in with my Moo-Cow fuck milk, and it doesn't belong there, because we all know there's no such thing as Soy milk 'cause there's no soy titty, is there?
It was the coldest winter ever! I thought last winter was the coldest winter ever, but I was wrong now wasn't I? You see because I travel all the time. So last winter, I'd be in the midwest, and the blizzard would hit. And then I'd fly home, AND THE BLIZZARD WOULD HIT AGAIN!
Americans continue to rapidly homogenize ourselves into a neutered oblivion. For a country founded on the protection of the unique, we relish our sameness.
All quotes and jokes
Popularity over time
Profile was viewed 165 times