Mitch Hedberg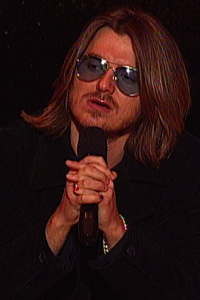 Quotes
I saw on HBO they were advertising a boxing match "It's a fight to the finish". That's a good place to end.
I don't own a cell phone or a pager. I just hang around everyone I know, all the time. If someone needs to get a hold of me they just say, "Mitch," and I say, "what" and turn my head slightly.
There's a guy in the audience with a distinctive laugh. I hope that guy is miked. The only problem with having a distinctive laugh is I know exactly when that guy isn't laughing. "Oh, distinctive laugh doesn't think that joke was funny!"
Last week I helped my friend stay put. It's a lot easier'n helpin' 'em move. I just went over to his house and made sure that he did not start to load shit into a truck.
That would be cool if the earth's crust was made out of graham cracker. It would disappear just like the ozone layer, but for completely different reasons.
All quotes and jokes
Popularity over time
Profile was viewed 157 times