Paula Poundstone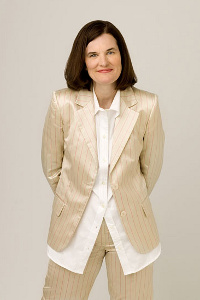 Quotes
I was born in Alabama but I had only lived there a month before I had done everything that there is to do. Even as an infant I was bored and crawled to the state line.
Remember when you were considered an environmentalist when you didn't throw junk out the car window? I sure do miss that simpler, happier time.
There are those wonderful moments of clarity in life when one is reminded how irreparably flawed we humans are. Once, when I was nineteen, on the subway in Boston I lost my balance slightly and bumped into an elderly woman. I quickly apologized and she replied, "Well, hold on to something, stupid." There it is. That's it. That's it in a nutshell. I don't want to sound negative, but I think every fetus should be shown a film of that incident, maybe projected up on the uterine wall, and then asked if it wants to come out. I am a strong believer in a woman's right to choose, but I also think that in the last trimester, the kid should be given every opportunity to back out.
I was the youngest in my family. When the other kids went to school, my mother would make them breakfast and then she would go back to bed for an hour, so I was sort of babysat by television.
I'm really more prolific than most stand-ups. My act changes. I do fold in new experiences, new observations, whatever you want to call it.
All quotes and jokes
Popularity over time
Profile was viewed 101 times