Paula Poundstone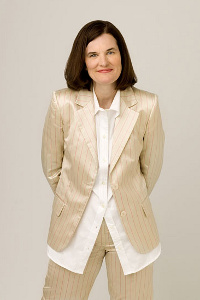 Quotes
I would imagine the wages of sin are death. But by the time they take taxes out it's just kind of a tired feeling.
I was born in Alabama but I had only lived there a month before I had done everything that there is to do. Even as an infant I was bored and crawled to the state line.
There are those wonderful moments of clarity in life when one is reminded how irreparably flawed we humans are. Once, when I was nineteen, on the subway in Boston I lost my balance slightly and bumped into an elderly woman. I quickly apologized and she replied, "Well, hold on to something, stupid." There it is. That's it. That's it in a nutshell. I don't want to sound negative, but I think every fetus should be shown a film of that incident, maybe projected up on the uterine wall, and then asked if it wants to come out. I am a strong believer in a woman's right to choose, but I also think that in the last trimester, the kid should be given every opportunity to back out.
When we live up to our Constitution, let's form a Conga line around the Capitol and bungee jump off the dome.
I can make things, but I don't cook them, exactly. Like salmon, I can stick that in a pan. Or the other day I made noodles, but they were hard. It never occurred to me to check them; I just stopped cooking them when I felt they were ready. Really, I'm too absentminded.
All quotes and jokes
Popularity over time
Profile was viewed 246 times