Alan Carr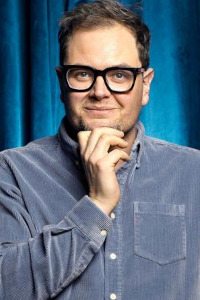 Quotes
(eating out in restaurants before he was famous) "I'll just have a napkin and a breadstick"
Dad instantly set out his stall:he wanted a big dog, a 'man dog',a dog that if it was human would enjoy a pint and stare at the barmaid's arse
I was quite pleased that Prince Philip didn't say anything like, I hate queers! He was quite well behaved.
When I was a kid I used to hate getting picked for team sports. It would be the fit and sporty guys over there. And me and the fat kids over here. Those kids were fat! One girl had to be cut out a hula hoop.
I hate my supervisor. Behind her desk it says. 'You don't have to be mad to work her, but it helps. 'Mind you, she's written it in her own shit."
All quotes and jokes
Popularity over time
Profile was viewed 241 times