Alonzo Bodden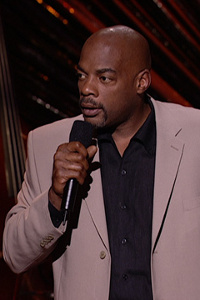 Quotes
There's always something that's going to kill us all. A few years ago, tomatoes were going to kill us and a few years before that it was spinach. The FDA is run by a 7-year-old kid that hates vegetables!
In a relationship you have to communicate, which means listening to her talk. Ladies, you fake orgasms. We fake listening.
Comedy is the drug, when they laugh it's like I'm a jazz musician and they hear it, and they get it. It's power to take the crowd wherever I want them to go. I love it when they laugh, especially when they relate through laughter. It's a beautiful thing. It also means I'm going to get paid, which is nice.
They sold me a duvet cover, and I don't have a duvet, I don't think. Then, they started treating me like I'm the idiot. They're like, 'Do you have a comforter?' 'Yeah.' 'Well, you have to protect it!' I had no idea it was under attack.
There are three goals for any comedian: to make a living as a comedian; I've been fortunate to do that. To make a name for yourself and to be famous would be great - because it would give me that freedom.
All quotes and jokes
Popularity over time
Profile was viewed 101 times