Alonzo Bodden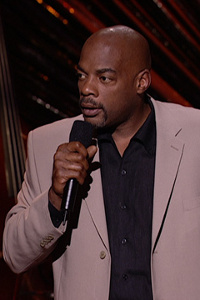 Quotes
Comedy is the drug, when they laugh it's like I'm a jazz musician and they hear it, and they get it. It's power to take the crowd wherever I want them to go. I love it when they laugh, especially when they relate through laughter. It's a beautiful thing. It also means I'm going to get paid, which is nice.
Women like jewelry. They're like racoons: show them some shiny stuff and they'll follow you home.
I grew up in the suburbs. I'm an angry suburban nergo. I'm bad in, like, Starbucks. I'll hurt you over a frappuccino.
There are three goals for any comedian: to make a living as a comedian; I've been fortunate to do that. To make a name for yourself and to be famous would be great - because it would give me that freedom.
I was teaching airplane mechanics when I realized it was more fun to make them laugh. I was laid off one more time and I never looked back, although it was nice to have a steady paycheck and benefits.
All quotes and jokes
Popularity over time
Profile was viewed 675 times