Alonzo Bodden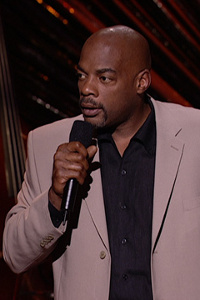 Quotes
Comedy is the drug, when they laugh it's like I'm a jazz musician and they hear it, and they get it. It's power to take the crowd wherever I want them to go. I love it when they laugh, especially when they relate through laughter. It's a beautiful thing. It also means I'm going to get paid, which is nice.
There are three goals for any comedian: to make a living as a comedian; I've been fortunate to do that. To make a name for yourself and to be famous would be great - because it would give me that freedom.
There's always something that's going to kill us all. A few years ago, tomatoes were going to kill us and a few years before that it was spinach. The FDA is run by a 7-year-old kid that hates vegetables!
Women like jewelry. They're like racoons: show them some shiny stuff and they'll follow you home.
I wish airplanes were more like elementary school with someone up front telling everyone to sit down and shut up.
All quotes and jokes
Popularity over time
Profile was viewed 257 times