Andy Kindler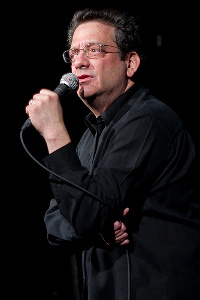 Quotes
Here's a guy who's never faced combat or anything in his life - or really had a tough day - and he's like, 'Bring it on,' I love that. He's like, 'Ya got a problem? Bring it on. Over there. In Iraq. Where the troops are.'
I was recently voted best standup never to win a major.
My Jihad energy drink isn't going to go. Ramadan noodles, not going to go. My Islamic version of the 3 Stooges, with Mohammed and whatever would be the Islamic version of Larry and Curly...
Over in Amsterdam, they spoke pot. They mix it with hash and tobacco and they roll it together. And the reason why they do that: they have so many vices, they have to combine them. "Oh, I'll smoke pot but I don't want to have that cut into my cigarette smoking time. I'm doin' a hooker in 10 minutes."
My cat's fully capable of speaking, but he says he's afraid of me turning it into a Kevin James vehicle.
All quotes and jokes
Popularity over time
Profile was viewed 1478 times