Andy Kindler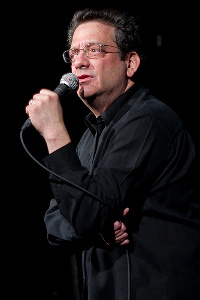 Quotes
I believe conspiracy theories are part of a larger conspiracy to distract us from the real conspiracy. String theory.
Judah Friedlander, I'm ok with you being the world champion for a few years more. That's a hook with legs. But I think he should make one more hat, that says 'there's a limit to how funny words on a hat can be'. And then move to a chapeau.
Here's a guy who's never faced combat or anything in his life - or really had a tough day - and he's like, 'Bring it on,' I love that. He's like, 'Ya got a problem? Bring it on. Over there. In Iraq. Where the troops are.'
You know, civil rights is great and everything, but a lot of people don't realize that plumbers in the South make less money than when they used to install separate drinking fountains.
I actually wrote a speech. Normally I do bullet points and run-on sentences.
All quotes and jokes
Popularity over time
Profile was viewed 304 times