Andy Kindler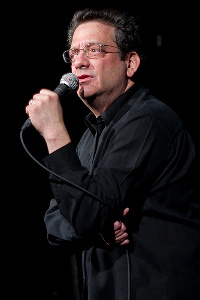 Quotes
Here's a guy who's never faced combat or anything in his life - or really had a tough day - and he's like, 'Bring it on,' I love that. He's like, 'Ya got a problem? Bring it on. Over there. In Iraq. Where the troops are.'
I believe conspiracy theories are part of a larger conspiracy to distract us from the real conspiracy. String theory.
My Jihad energy drink isn't going to go. Ramadan noodles, not going to go. My Islamic version of the 3 Stooges, with Mohammed and whatever would be the Islamic version of Larry and Curly...
I was recently voted best standup never to win a major.
The motto of my comedy workshop: "If I can't make you funny, maybe you're not. Ever think of that?"
All quotes and jokes
Popularity over time
Profile was viewed 623 times