Bonnie McFarlane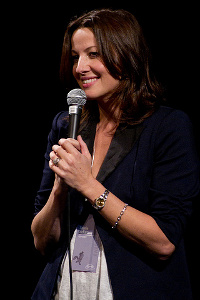 Quotes
Just a tip if you have a big event to go to or an important meeting, if you cry enough your face swells up giving you a temporary "lift".
Never hit a baby, even if they start it.
If you enjoy shaming people, I suggest dentistry as a profession.
I've always wanted to be a writer. Always been very creative. I always laughed at things that the rest of my family would sort of get angry, like not understand.
When you're pregnant, people feel like they can come up and give you unsolicited advice. When I was nine months pregnant, this one woman came up and she said, "I have one word for you: epidural." And I was like, "Oh my God, thanks. But we already picked a name."
All quotes and jokes
Popularity over time
Profile was viewed 1851 times