Bonnie McFarlane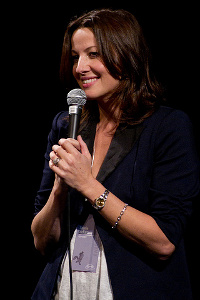 Quotes
I don't think cops should wear mirrored sunglasses; the whole time the guy was chewing me out, all I could think was "I should cut my bangs."
Another time we watched this morose, spiky-haired open miker do his entire set laying down on the stage. I guess it was his way of saying, "Fuck standup." From his supine position he mostly did dumb puns. After a couple of minutes my sister turned to me and threw her hands in the air, "I don't get it!"
My sister loves dirty comedy. She'll laugh hysterically at every foul word, every titillating premise, every fart noise and every faggot impression. It will come as no surprise then, when I tell you that her favorite comic is Janeane Garofalo. She thinks she's really cool. Her favorite movie moment of all time is that scene in "The Truth About Cats and Dogs" when Janeane's character, on roller skates, is pulled down the street by a couple of dogs. Regardless of where you are on the whole alternative comedy debate, you gotta admit, that shit was funny.
My sister would've liked to have been a comic. She had an act that she would do for me sometimes. But of course, she didn't become a standup comedian because she's kind of a big talker. Doesn't do a whole lot of the things she says she will. Like go to the moon. The truth is if she had done it, she would be so fucking famous right now. Her act was simply a stream of obscenities and giggling. Can you imagine? A retarded chick just standing on stage swearing and giggling?
Sometimes when I'm bored, I like to people watch. And I got to a touristy area and I play this game I just made up. I call it "Lesbian or Midwestern?"
All quotes and jokes
Popularity over time
Profile was viewed 64 times