Bruce Bruce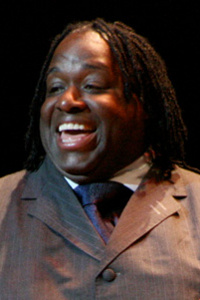 Quotes
All my life I was a class clown, church clown, neighborhood clown. And I took a shot after my divorce. She pushed me and I took it.
I don't do too many jokes about current affairs, because almost every comedian always does that.
My comedy has no color, it's for everybody, black, white, Latino, Asian. It's not a pro-black show, not a def jam show; it's just straight, wholesome type of humor.
White person write you a check, you can take it to the bank in the morning. Brother write you a check, he's gonna postdate it next Friday, look you straight in the eye and say, 'If you go in there Thursday, the money won't be there.'
You're taught as a child, when an old person says something to you, you don't talk back. But now I am an adult, I let their ass have it, you hear me? I'm in church Sunday; I spot this old lady. I said, 'Hey ma'am, how you doing?' She said, 'Hey baby, how big you goin' get?' I said, 'How old you goin' get?' She got mad, 'You fat ass,' 'You old bitch - we're in church now!'
All quotes and jokes
Popularity over time
Profile was viewed 85 times