Chelsea Handler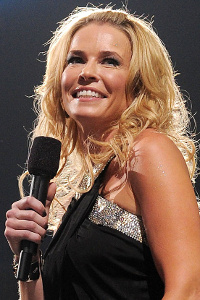 Quotes
Along with the 97 percent of women who can see, I have never been a fan of redheaded men.
While looking at a website for liposuction, I learned that it was a six-to eight-week recovery period, the clincher being that, during that time, I would under no circumstances be able to use street drugs. Obviously I had to think of a more realistic approach.
That's Al Qaeda's new plan: to destroy America one period at a time.
Paris Hilton has launched a new champagne in a can called Rich Prosecco. For the ad campaign Paris posed wearing nothing but gold paint. That's a unique way to cover up herpes.
This weekend, Pam Anderson tied the knot with Rick Salomon in Las Vegas. The minister who married them said, 'Is there anyone here who believes this couple should not be joined in holy matrimony?' And then he raised his hand.
All quotes and jokes
Popularity over time
Profile was viewed 15 times