D. L. Hughley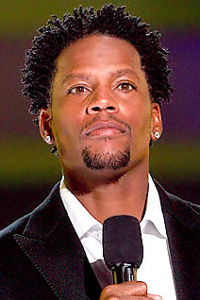 Quotes
They had this movie called Juno about a teenage girl who gets pregnant and it's nominated for an Oscar. That's an unusual experience for me, 'cause when a black girl gets pregnant it ain't no Oscar. It's social work and a box of condoms is what that is.
One of the most beautiful things in the world I've ever seen or heard is people laughing, even when there seems to be so little reason for them to laugh.
The one thing women love more than money is power.
You can't fire white folk. You fire white folk, you'd best believe somebody gettin' shot that day. "I'm fired? I'll be right back, you sons of bitches...!" You fire a brother, we be mad for a different reason. "How come you didn't call me at home, motherfucker? You knew I was fired yesterday! Makin' me burn up all my goddamn gas..."
Black folks never bungie jump. That's too much like lynching for us. "I'm gonna let you tie a rope around me and push me off a bridge? You must be out your damn mind."
All quotes and jokes
Popularity over time
Profile was viewed 116 times