Dave Attell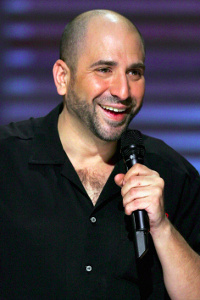 Quotes
Don't get me wrong, I like to cuddle. But there is such a fine line between cuddling and holding someone down so that they can't get away.
I'm drinking Jack and I started blackin out. You ever black out? Or as I call it, time travel? You ever do that? Oh yeah! You know how it is -- you're drinking, you black out. You wake up, you're in another bar. You're drinking, you black out. You wake up, you're playing that knife game with a half-Indian somewhere in North Dakota, "Yeah! Yeah! Winner fixes the tranny! Yeah". You're drinking, you black out. You wake up, you're in White Castle -- working there 3 years, STILL not assistant manager. Your buddies tell you to quit, but you can't 'cause you're banging the slow girl on the fry-o-later. They say she's a little retarded, but those titties ain't retarded!
Ladies, is it really the size of a man's penis that matters? Is it? (some girls cheer) Well, the whores have spoken. Some woman say yes, some women say "no, it's how he uses his penis." How he uses it? What is this man doing with his magical penis? Is he building things and fighting terrorism? "A gazebo, how did that get in here?!" "Don't thank me." What if a man doesn't have a penis, but three balls, and one of them lights up and plays a tune? Does he ever get laid?! DO YOU FUCK HIM FOR THE STORY?!
Usually when you hear a laugh like that, it comes with a chainsaw.
I was in the scouts and we had to learn survival things. Like snakebite, what do you do? Suck out the poison. But with your right hand, jiggle the man's balls. That's how I was taught.
All quotes and jokes
Popularity over time
Profile was viewed 135 times