Dave Attell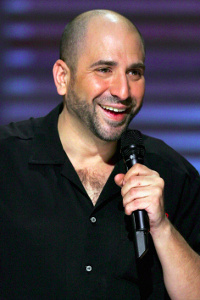 Quotes
Every dude in here has had a fantasy about Jessica Simpson. Here's mine: Jessica, hold your sister Ashlee so I can kick her in the throat.
You gotta make your own fun (Audience member cheers). That's right, listen to that mother of two, she knows what I'm talking about.
Some people are against porno and I say, "Hey, whatever a man and a woman and another woman with a penis and a midget do to a donkey, that's their business."
Never drink alone, that's what they say. But you know what? If you drink you will never be alone, alright? People will find you, and that's when all the bad stuff happens, right? Just sittin around, doin nuthin, right? You know what happened one time? Drunk, nothin to do. I end up doing what? My penis in my fishtank, alright? No, i did it just to show them who's boss, alright? They were gettin a little uppity. Even the diver guy stopped bubblin, he's like 'bleh??' Then, they hid in the castle. And like all good times, it always ends when your grandma walks in, doesn't it? 'Get that dick outta the fishtank!! Time for supper!'
If I need directions, I'm not asking a man with one tooth. I'm asking a man with one leg. Because he definitely knows the easiest way to get there.
All quotes and jokes
Popularity over time
Profile was viewed 1091 times