Dave Chappelle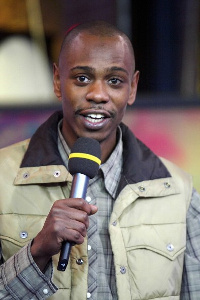 Quotes
I'm Rick James, bitch.
Just cuz I eat Chicken and Watermelon they think that something's wrong with me. Let me tell you somethin if you don't like chicken and watermelon, something is wrong with you, there is something wrong with you! Where are all these people who don't like Chicken and Watermelon? I'm sick of hearing about how bad it is, it's great! I'm waiting for Chicken to approach me to do a commercial nigga, I'll do it for free Chicken! It's the least I can do.
Every group of brothers should have at least one white guy in it. Im serious for safety, cuz when the shit goes down someone is gonna need to talk to the police.
I turned on Sesame Street. And I was, like: "Oh, good. Sesame Street. This is much better cause now he'll learn how to count and spell." But now I'm watching it as an adult and I realize that Sesame Street teaches kids other things. It teaches kids how to judge people. And label people. That's right. They got this one character named Oscar. They treat this guy like shit the entire show. They judge him right to his face. "Oscar, you are so mean. Isn't he, kids?" "Yeah. Oscar, you're a grouch!" He's, like, "Bitch, I live in a fucking trash can! I'm the poorest motherfucker on Sesame Street. Nobody's help in' me." Now you wonder why your kids grow up and step over homeless people, "Get it together, grouch. Get a job, grouch." So don't even tell me how to get to Sesame Street, that is a terrible place. I wouldn't go there if I knew the way.
I've done 10 or 11 pilots for network television, which is ridiculous.
All quotes and jokes
Popularity over time
Profile was viewed 298 times