David Cross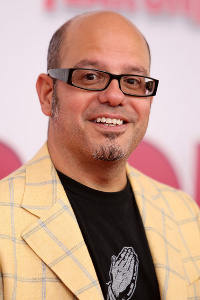 Quotes
[With reference to a 'how to date' book] Because you've been on dates where y'know, you forget to open your eyes and wear pants and speak English.
There's a kind of racism in the south that is really so steadfast and true that I almost kind of begrudgingly, you know, admire it in a way, and that is that there are segregated graveyards. That just to me defies all logic...but it's also, like, "Well, hats off...you're going to stick to your guns on that one, and take that shit to the grave? All right!" There's enough people to go, "Naw, man..ugh, I don't even wanna think about it. My dead, lifeless, rotting, maggot-infested corpse...next to some black man's? Ewww!!! That's gross!" But that does pose an interesting scenario, because, what's going to happen when the zombies rise out of their graves? ... "We must take over the human race-- wait, what were you?" "I'm black." "Fuck you, nigger, you can't come." "What? No! But I'm a skeleton, you can't tell!" "Fuck youuu..."
So I was watching this one show where - there's a guy on stage and he pretends he has contact with the dead and spirits talk to him...[Some people in the audience give suggestions, one of which is Crossing Over.] Crossing–...no, no, no, no, no, it was, uh, church. It was church.
[On the Catholic Church's sex scandals] And y'know, they're God's representatives, so that means... God fucks little boys.
[After reading an article on Miles for Kids in an inflight journal] What [President of the Airline] is doing is, he's urging everyone to give up their frequent flyer miles for sick kids... But as I was reading this, there were two empty seats next to me. Why can't sick kids sit there? If they're so concerned with sick kids, shouldn't they have like a pen of sick kids next to the gate?
All quotes and jokes
Popularity over time
Profile was viewed 822 times