David Letterman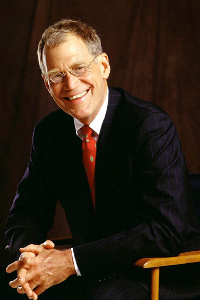 Quotes
I have a dog, a lovely animal… I'm feeding him dog food that's numbered. I'm not sure what it is, but they got it for everything. One for puppy, two for the middle dog, three for the gay dog, four for the whatever. On up. I'm looking at the can and it says on there "for the dog that suffers constipated." The way I look at it, if you're dog is constipated, why mess with a good thing.
Everybody is wondering what Paris Hilton will be doing next, and hell, I'm wondering what she did before.
Valentine's Day money-saving tip: Break up on February 13th, get back together on the 15th.
There was a time in this country when a whoop-de-doo was illegal.
And now the really difficult part: We have to rebuild Iraq into a strong and independent nation that will one day hate the United States.
All quotes and jokes
Popularity over time
Profile was viewed 62 times