Demetri Martin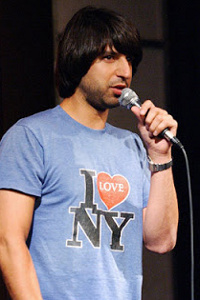 Quotes
I like video games, but they're really violent. I'd like to play a video game where you help the people who were shot in all the other games. It'd be called 'Really Busy Hospital.'
I was seeing this girl and she wanted to get more serious. But I wasn't ready to, I had just gotten out of a difficult relationship before that. So I said to her, 'Listen, you have to understand something. Relationships are like eyebrows. It's better when there's a space between them.' And that's coming from a Greek guy.
I noticed that there are no B batteries. I think that's to avoid confusion, 'cause if there were you wouldn't know if someone was stuttering. "Yes, hello I'd like some B-batteries." "What kind?" "B-batteries." "What kind?" "B-batteries!" and D-batteries that's hard for foreigners. "Yes, I would like de batteries."
A couple weeks ago I was on the street and I saw an ugly pregnant lady, and I just thought, 'Good for you.'
I saw a door that said exit only. So I entered through it and went up to the guy working there and said "I have good news. You have severely underestimated that door over there. By like a hundred percent."
All quotes and jokes
Popularity over time
Profile was viewed 753 times