Doug Stanhope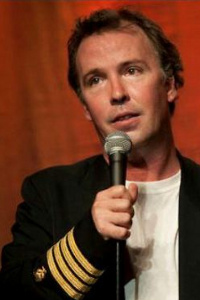 Quotes
My act's not for everyone. I get on stage, I feel like I'm leading you into battle. You're not all going to be here at the end.
All illegal narcotics are medicinal. Boredom is a disease worse than cancer. Drugs cure it, with little or no side effects if used as directed. Life's temporary for a reason, it gets boring after awhile. You should be inventing new drugs is what you should be doing! Newer, crazier drugs... and more holes, that's what you ladies need!
"A national day of prayer"? Does that scare the spine out of anyone? Especially when you consider that it's all those dog-shit religions that start these fucking wars to begin with. Ninety percent of every war that's ever been fought is because of some made-up, mind control, completely fictional religion. You never hear in the news, "200 killed today when Atheist rebels took heavy shelling from the Agnostic stronghold in the north". No, it's because you got a silly, placebo religion cuz you don't want to admit that you don't fucking know.
If you get made fun of working at Pier One Imports, you can't pelt them with poop.
[in regards to the subway breakfast sandwich not being available after 11AM] I'll go "Uh, hey man, uh gimme an egg and cheese", and the kid will say, "I'm sorry sir, it's after 11, we put all that stuff, away. You didn't put it away...it's in the second green cabinet, it's right there. This place is as big as a photo-mat, there is no "away" in the building, you don't own "away". There's no Brink's truck that pulls up at 11:02 and yanks out the eggs under armed guard.
All quotes and jokes
Popularity over time
Profile was viewed 769 times