Doug Stanhope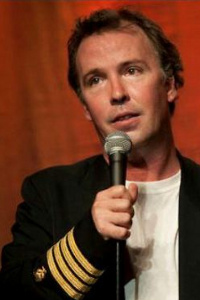 Quotes
My act's not for everyone. I get on stage, I feel like I'm leading you into battle. You're not all going to be here at the end.
So you stick something up your ass, and you hope it might work, and it usually helps.
America takes credit for giving you freedom that you had anyway. It's like going to a wedding and putting your tag on somebody elses box.
The first thing I think of when I wake up is how close I am to death. But then it gets better during the day.
"A national day of prayer"? Does that scare the spine out of anyone? Especially when you consider that it's all those dog-shit religions that start these fucking wars to begin with. Ninety percent of every war that's ever been fought is because of some made-up, mind control, completely fictional religion. You never hear in the news, "200 killed today when Atheist rebels took heavy shelling from the Agnostic stronghold in the north". No, it's because you got a silly, placebo religion cuz you don't want to admit that you don't fucking know.
All quotes and jokes
Popularity over time
Profile was viewed 96 times