George Lopez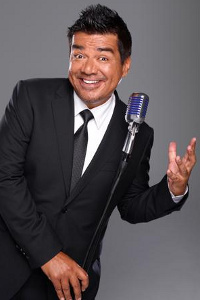 Quotes
(Growing Up) Everything was no. Birthday party? "No get Birthday party. Mira cabron. You got a lot of things already. You don't need a party. So's you can showoff? No. Why you crying now? No. Chucky Cheese? You wanna see a mouse, pull the refrigerator out."
When I look at the Gospel, I see how it is speaking to me at this time. I see how to be to others and it helps.
The average late-night viewer is in their mid-50s and the average viewer of TBS is in their 30s and is largely African-American and Hispanic, already, before I even get there.
This is L.A. You wanna learn Spanish? Take the bus.
Sarah Palin HAS to be Latina: she has a job and her husband don't work. She's gonna be a grandma, and has an infant-she's Latina.
All quotes and jokes
Popularity over time
Profile was viewed 68 times