Godfrey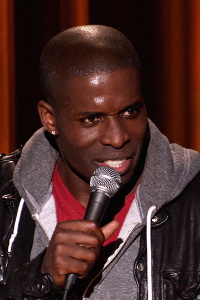 Quotes
I would say, as far as heckling, there's benign and there's malignant; like tumors man. Sometimes you get really nice hecklers. I'd say percentage-wise it's only about 10 to 20 percent the whole year.
I used to think it was corny to be in love but actually it's corny to lose an awesome woman! Real talk.
The one thing you don't want to be is a sucky clean comic. I hate sucky clean comics! It's like Christian rock, bro. I'd rather listen to gospel and Christian rock. That's cheating!
I think that sometimes I've been a little too nice. I think you have to have a balance. When you're too nice people take you for granted, they take you for a fool I think.
I got into trouble a lot in school. They say you're a disturbance in class. You're a distraction, they're moving you around. You never really get rewarded in class for being funny. You're a disturbance. But the funny kid is often witty and clever and quick... they finally get a chance to express themselves when they get out of school.
All quotes and jokes
Popularity over time
Profile was viewed 526 times