Henry Cho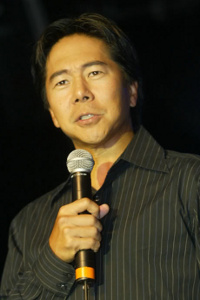 Quotes
I have one show biz picture in my house. It's with Mr. Hope. I have asked for one autograph in my life: Mr. Hope's.
I'm going old school. Adult comedy but you can have your kids in the room. Kind of Andy Griffith meets Bill Cosby meets Bob Newhart. Also my character isn't an idiot as all the rest of the sitcoms recently have the dad character like Homer Simpson.
As a comedian, I have the gift of looking at something a bit differently and making it funny. I'm not sure why I can do that, but that's as simple as I can put it.
I think my one of my strengths in standup is my ability to adlib. I do all my best writing on stage. I can sit down and write jokes, but I'd rather go on stage with a premise or an idea and let the jokes come that way. My creative juices are never flowing any better than when I'm onstage.
In the early days I was on the road 45-50 weeks a year, driving from gig to gig 6-8 weeks in a row. Not everyone can do that. The show becomes the easy part. Tt's the life on the road that is the hardest... and you can't get any good at standup unless you do the road.
All quotes and jokes
Popularity over time
Profile was viewed 116 times