Joan Rivers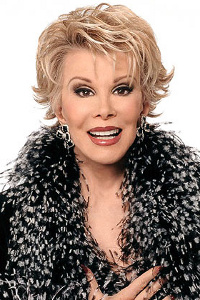 Quotes
A woman went to a plastic surgeon and asked him to make her like Bo Derek. He gave her a labotomy.
The worst thing that ever happened to me on stage is someone ran forward to tell me they loved me and projectile vomited all over the stage. It was horrible.
Welcome to my world! I've been through it all, and I often pinch myself to believe my luck. I design jewlery, create cosmetics, perform comedy, act, lecture, write books, travel, have a fabulous daughter, and a phenomenal grandson-and I feel I'm the luckiest woman on the planet.
My mother could make anybody feel guilty - she used to get letters of apology from people she didn't even know.
Grandchildren can be fucking annoying. How many times can you go 'And the cow goes moo and the pig goes oink'? It's like talking to a supermodel.
All quotes and jokes
Popularity over time
Profile was viewed 944 times