Lenny Bruce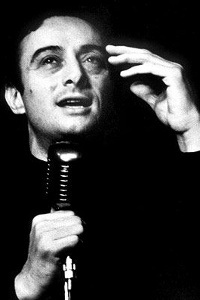 Quotes
I sort of felt sorry for the damned flies. They never hurt anybody. Even though they were supposed to carry diseases I never heard of anybody saying they caught something form a fly. My cousin gave two guys the clap and nobody ever whacked her with a paper.
Four years working in clubs - that's what really made it for me - every night: doing it, doing it, doing it, getting bored and doing different ways, no pressure on you, and all the other comedians are drunken bums who don't show up, so I could try anything.
I'm not a comedian. I'm Lenny Bruce.
If I get busted in New York, the freest city in the world, that will be the end of my career.
Every day people are straying away from the church and going back to God.
All quotes and jokes
Popularity over time
Profile was viewed 23 times